Rock climbing courses at Lake Garda Italy Alpine routes Dolomites Alps
Information on rock climbing at Lake Garda and Dolomites Italy
With max. 2 participants you can benefit from the didactic capacity of our mountain guide who can look back upon more than 20 years of teaching in our Alpine School of Arco. It is possible to choose the dates, the number of days as well as the venues, difficulty degrees and didactical preferences. One mountain guide with two guests is an ideal group for a multi-pitch route up to 400 m with ca. 12 pitches. Time hrs. 5/6 - pax 2 - EU 149,00
The instruction will take place in one of the many areas around Arco. On natural vertical rock walls (equipped with SPIT) the participants are learning to climb by using the "top-rope" system on single pitch routes. It permits the climber to "fall" in any moment and all that can happen is, that the climber remains "hanging" on the rope - a rope which has a capacity of up to 2.000 kg - this is a maximum of security. One day of activity has a duration of approx. 4 to 5 hours. A licensed Mountain Guide will teach knot- , belaying- and techniques which are the base of every type of mountain activity such as "Vie ferrate" (iron/ladder paths) or even ice climbing. We prefer to perform our lessons with a small number of participants in order to provide a maximum of service and success for each beginning climber. Thus the Mountain Guide can concentrate on each participant individually, he can evaluate and correct possible mistakes and contribute to make a large progress. You may ask our Guide for advice regarding any type of alpine activity.
Base rock climbing course
: 3 days - pax 3/5 - EU 310,00
Week-end training lessons in Arco
: 2 days - pax 3/5 - EU 220,00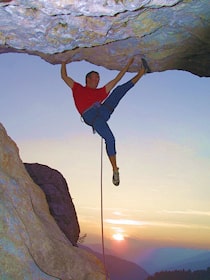 The goal of most participants in
advanced courses
is to go climb independently and to
lead
. In the beginning of the activity we still climb top-rope on difficult routes trying to reach the limit our your capacity with the objective to attain a higher degree, to correct possible mistakes and to refine your technique. Next step in the training is advanced rope and techniques for climbers who are "leading". The success of the courses depends on the participants' prior experience and a small number of participants; upon request it is also possible to do multi-pitch routes. 3 days - pax 3/4 - EU 350,00
Classical multipitch routes in the Alps
hrs. 4/6 - pax 2 - from EU 300,00
Information on and booking
Any type of requests as well as reservations should be made at least 20 days by e-mal prior to the start of the activityes with our Alpine School of Arco. You should indicate the number of participants, possible prior mountaineering experience as well as any information necessary to guarantee a successful and efficient training.
Necessary equipment
All the material which is necessary will be made available free of charge by our Mountain Guides (this includes as well shoes, harness, helmet). This service is included in our rates. If you need help choosing the suitable gear, the Guides may give you some good advice.
What happens, if it rains in Arco ?
Sometimes it may rain even in Arco and there is the chance that a day of your activity cannot take place due to bad weather. It is our pleasure to postpone the 'lost' day to another date. If this should not be possible, of course we are not going to charge the full rate for the lost day instead we are only retaining the deposit payment already paid. The same applies to partially used days. In any case the deposit payment is non refundable, as the Alpine School Arco – in order to provide you with a perfect service - is sustaining the same costs … even with bad weather. You will not lose the deposit for your booking and possible lost days, as you may use it within a 2 year time frame or transfer it to a friend.
Insurance for our participants
Each Guide of Alpine School Arco are government licensed Mountain Guides with an international diploma and are officially registered with the regional and international Mountain Guide' s Association. With no exception, all of them have a third party liability insurance towards their clients.
The crags in Arco Lake Garda Dolomites
Year after year the Northern area of Arco is presenting itself as the rock climber' s and mountaineering capital. Responsible for this success are the facts that the area is offering walls of up to 1.200 m altitude as well as rocks and boulders suitable for rock climbing. The limestone' s structures allow to perform safely and elegantly all kinds of techniques. The Mediterranean climate, mild in winter and refreshing in summer, permits each kind of activities almost throughout the whole year.
The participation is independent of age and does not require special physical conditions. If you love outdoor activities and, if you are anxious to discover something "new", this is the right for you. Climbing may be considered as one of the most comprehensive types of sport as you do not only need almost all of your body fibers but also your brain.
Useful links in Arco at Lake Garda and more